Spider-Man: No Way Home Trailer Dropped - The Loop
Play Sound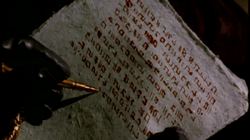 The Book of G'Kar was a Narn holy book written by Citizen G'Kar between 2260 and 2262.
History
[
]
He began writing the book after being jailed for attacking Londo Mollari in a Dust-controlled state. The book was distributed in 2262 without the consent of G'Kar. Every copy has a circular coffee stain on page 83 because Mr. Garibaldi accidentally spilled coffee on it and all Narn holy books must be reproduced line for line and word for word right down to the flaws in the paper. The book was soon projected to surpass the Book of G'Quan as the best selling book in Narn history.[1][2]
G'Kar was not happy about the book being published, stating that he intended it to only come out after his death. He was also dissatisfied with it being unfinished and unedited, as he had only the single copy which was the first draft, and had not gotten around to going over it and making revisions, leading to his having to explain some awkward sentiments, such as the explicit warning that the Centauri were not to be trusted. The book as published also contained numerous entries that were more in the vein of a diary or a history than a philosophical text. G'Kar's daughter, Jerrica Thomas, opined to her father that the book was good for a first draft.

Passages
[
]
References
[
]