The following is a list of significant cities and settlements on Earth.
Asia
[
]
Australia
[
]
Melbourne: Major city in south east Australia. Following the death of Louise Bouet's father from a heart attack in 2265, Louise's mother remarried and moved from Paris to Melbourne as did her daughter

Helen Bouet

.[5]
Perth: Major city in western Australia. On the 21st of May, 2117, as part of the early tensions between telepaths and normals,

Thana Neesom

of Perth, Australia filed suit against her dentist

Graham McKay

- a recently identified telepath - for invasion of privacy while she was under general anaesthesia for root canal surgery.[3]
Americas
[
]
New Orleans: In 2092, the city was destroyed by a terrible flood, wiping out much of the city including the old French Quarter. So much of the city is destroyed that after the rebuilding many wanted to call it "New New Orleans", though the suggestion wasn't a very popular one.[12] In 2262, Psi Cop Alfred Bester was called in to deal with a runaway problem the New Orleans local Psi Corps field office couldn't deal with on their own.[13]
New York City: A Major Earth city located on the North American eastern seaboard. Places of interest include Central Park and New York University.[14][15] New York was one of the many places Fiona Davion lived with her adopted grandfather Monkey while growing up in the underground in the 2160s and 70s.[3] As a young man Leonard Anderson dropped out of school after his parents were killed and struggled to make a living for himself on the streets of New York[16] Following EA President Clark's Martial Law Decree in 2260, New York was one of many major cities in which shock troops were out in force.[2] Later that year, Earth had a late winter and it didn't snow in New York until late December.[17]
Europe
[
]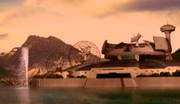 Madrid: A west European city. During his youth, Sandoval Bey used to spent the summers with his grandfather near the city.
Rome: Capital city of Italy. The city played a major role in human history since its founding about 2,900 years before the Third Age of Mankind. It had been the headquarters of the Roman Empire, and afterwards of the Roman Catholic Church. After the Great Burn the city regained some of its former prominence as the church took on a leadership role in post burn human society.[15]
References[19]

[

]