Welcome to The Babylon Project!
The comprehensive encyclopedia for the Babylon 5 universe
3,185 articles since December 2004

The Babylon Project is full of spoilers. Browse carefully.

Alfred Bester was a senior Psi Corps officer and one of the more notorious Psi Cops in Level 12 Investigations. Bester was born in 2189 at a secret location while his parents, Matthew and Fiona Dexter, resistance leaders both, were in hiding.
In 2258 he was in pursuit of a powerful telepath named Jason Ironheart, and first arrived on Babylon 5. Bester eventually agreed to work with Captain John Sheridan at several points during the second Shadow war particularly after the Shadows captured Bester's pregnant lover, Carolyn Sanderson.
The wealthy industrialist William Edgars had perfected a lethal virus which would attack telepaths' unique genes. Any infected telepath would quickly die without regular doses of the antidote they had also created. Bester brainwashed Michael Garibaldi and programmed him to enter Edgars confidence. After killing Edgars and acquiring all the virus, he removed the commands and left Garibaldi to cope with the realization that he had betrayed everyone he knew on all sides.
Following the Telepath War, Alfred Bester was wanted for war crimes that he committed. He spent several years on the run before moving to Paris, France.
6 January 2019
William Morgan Sheppard (Rogue Soul Hunter and G'Sten) passed away at the age of 86.
October 2018
28 June 2018
Harlan Ellison (Sparky the Computer) died in his sleep at the age of 84.
1 June 2018
Babylon 5 hits Amazon Prime in June (streaming service). Likely only for the USA
25 November 2017
Rance Howard (David Sheridan) passed away at the age of 89.
16 June 2017
Stephen Furst (Vir Cotto) passed away at the age of 63.

4 April 2017
All five seasons of Babylon 5 are now available to watch online at go90 or with the go90 app, along with other series.
27 July 2016
Jerry Doyle (Michael Garibaldi) passed away at the age of 60.
21 July 2015
Theodore Bikel (Rabbi Yossel Koslov from "TKO" and Lenonn from "In the Beginning") passed away at the age of 91.
11 July 2015
Babylon 5 stars Bruce Boxleitner, Mira Furlan, Claudia Christian, Peter Jurasik, Bill Mumy, Jerry Doyle, Stephen Furst, Patricia Tallman, and Robin Atkin Downes reunite for a special panel at San Diego Comic-Con.
5 June 2015
J. Michael Straczynski's new series sense8, co-created and co-written with the Wachowskis, premiers on Netflix.
2 May 2014
Efrem Zimbalist Jr. (William Edgars from season 4) passed away at the age of 95.
31 July 2013
Michael Ansara (Elric from "The Geometry of Shadows") passed away at the age of 91.
25 May 2013
Several Babylon 5 events take place at Phoenix Comicon 2013 to mark the 20th anniversary of the show.
A reunion panel is held with J. Michael Straczynski and a host of the show's regulars: Tracy Scoggins, Andrea Thompson, Jason Carter, Robin Atkin Downes, Peter Jurasik, Walter Koenig, Jerry Doyle, Stephen Furst, Patricia Tallman, Claudia Christian, Bill Mumy, Caitlin Brown, and Mira Furlan. The panel also featured a special video message from Bruce Boxleitner, who was unable to attend due to a scheduling conflict.
Straczynski holds a special "promise panel" to honor the memory of Michael O'Hare and finally reveal to the world the truth about his illness and why he left the show after the first season.
For more news, click here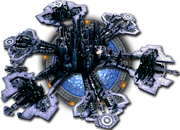 Community content is available under
CC-BY-SA
unless otherwise noted.