The Babylon 5 Technical Manual
Edit
Please specify the source, and use Template:Reflist
See Talk:Sun-Hawk#The Babylon 5 Technical Manual
--BoneGnawer 12:31, 24 September 2007 (UTC)
Could anyone tell me please why doesn't the whole ship rotate? Danmiki
In By Any Means Necessary, the Earthforce vessel Omega was cleared to enter the jumpgate. Would this be the Omega Class prototype? --Farragut79 06:52, 10 December 2008 (UTC)
EAS Heraclion?
Edit
While capping 'Endgame' I think I've spotted a "new" Omega. (bottom right corner)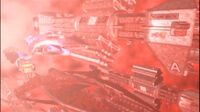 At first I thought it might be a re-use of the Heracles, as that seams to appear in the Apollo's fleet too, but on closer examination, it almost certainly ends with an "ON". Still, before I start creating articles and altering templates, I thought I'd better show the image here to make sure I'm not seeing things. So what does everyone make of this? Blind Wolf 10:39, 28 May 2009 (UTC)
Individual vs List
Edit
Well obviously any redirect can be set to a specific subsection of an article, so being sent to a subsection of, for example, the 'Omega Class' article should bring you to the information you're looking for...all two sentences of it. For example, if you click this link you should be instantly taken to all the info we currently have on the planet Halax, no? As for the images, yes having an decent image is a factor in whether or not an item should have it's own article, but not a determining factor. For example we don't have an article for Centauri Prime's moon(s?), though we do have an image of at least one. Other than then the fact it exists and we can see it there's no data on it and thus no need for an article, or in this case even an entry on the list. However I will agree *some* of those planet entries are pretty borderline and if there was an image or they can be legitimately expanded upon then *some* may very well be "upgraded". Still, let's be honest, when it comes to these ships most of the obscure ones are exactly that, obscure, fuzzy little screen caps. Only a handful are even worth looking at and even then the name plate is very rarely visible, never mind legible. Blind Wolf 23:07, February 26, 2011 (UTC)
Hi I am new here, but I have been long time fan of B5 an wikis, but as I was going through the ships, I noticed a mass amount of redirects. Im sorry but that looks tacky and unprofessionally especially compared to a well designed wiki such as Memory Alpha. Lord Apollo
It's a tricky thing and I appreciate that there's more than one valid way to approach this. I *did* take pains to retain what I thought were those ships that were significantly featured (Aggie, Apollo, Heracles etc.) Indeed, roughly half the Omegas still have articles of their own and so they should. As for the rest, the fact is in most cases literally all we know about them is their name and where they were at a particular point in time. Perhaps could devise a criteria on which to base these decisions and write it into the style guide so we can keep things consistent. Whatever other wikia may be doing, I'm not so concerned about the number of articles we have so much as the quality and I don't think there's a lot of sense in having a bunch of stubs that next to nobody is going to look up. So until we come to a consensus, let's leave things as they are, yes? Blind Wolf 14:17, March 6, 2011 (UTC)
Secondly, I have noticed that there are article links on various larger articles that redirect to the large article. It is a circle that gets frustrating. Again, this is not even with the ships, but with various other articles as well. It is starting to feel like there a couple of hundred large articles with the smaller articles mainly redirects into the larger ones. If this keeps up then this wiki will have a few articles with the bulk of the articles being redirects to the larger ones. LordApollo12 04:41, March 7, 2011 (UTC)
I say let's take a vote. I say individual.LordApollo12 20:33, March 9, 2011 (UTC)
Primary Laser Batteries
Edit
Isn't this supposed to be 6? 2 in the fore and 4 in the aft?
-Anon