To create an encyclopedic reference of the Babylon 5 universe, we need a definition of what is considered part of that universe.
B5 Fiction
[
]
The following is a compilation of Canon stories, as follows:
TV/DVD Movies
[
]
TV Episodes
[
]
Babylon 5
[
]
Crusade
[
]
Unproduced Crusade Scripts
[
]
B5 Comics
[
]
B5 Novels
[
]
Psi Corps Trilogy
[
]
Legions of Fire
[
]
(Note: Though the stories are canon, the books contain a number of dating errors.)
The Passing of the Technomages
[
]
Novelizations
[
]
(Note: There are some minor differences between the novelizations and the filmed versions, in such instances, the filmed version takes precedence.)
B5 Short Stories
[
]
Nonfiction
[
]
JMS produced material, such as USENET postings, etc. which often state or clarify canon are considered official.
The following items are officially licensed products, or well-known accurate references and can be considered valid references unless contradicted by any of the above sources:
Publications
[
]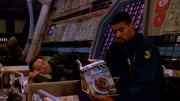 Other Media
[
]
Babylon 5 Limited Edition CD-ROM Entertainment Utility

by Sound Source Interactive

Babylon 5 Shadow Wars Arcade Series Entertainment Utility

by Sound Source Interactive
Babylon 5: Into the Fire (Game): Official website archived on firstones.com

Note: While the game itself was cancelled prior to release, the website featured details on the various ships and government and element of the storyline that were to be featured, all of which were approved with close collaboration between Sierra Online and Babylonian productions (See source)
[

]
The Babylon File

The Babylon File (Vol 2)
Internet
[
]
Official Sites
[
]
The official sites below can be considered official references, but may be superseded by the B5 fiction or JMS info described above.
Fan Sites
[
]
Fan sites should not be considered official references. They can be secondary references, if they cite their sources. The two sites below are excellent secondary references.