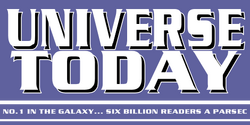 Universe Today was a major Earth Alliance newspaper.
Daily issues of Universe Today were printed from local dispensers and could be customised according to a readers own personal preferences and generally returned the next day to be recycled when a new edition is purchased. By 2259 it had a section entitled "Eye on Minbari".[1]
Universe Today Article Headlines by Date
[
edit
|
edit source
]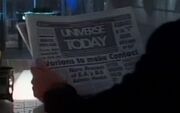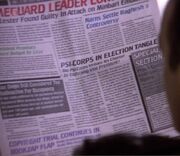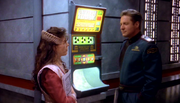 Vorlons to make Contact[2]
Narn protest of EA's...
April, 11th[3]
HOMEGUARD LEADER CONVICTED
...Lester Found Guilty In Attack On Minbari Embassy
NEW BINARY STAR DISCOVERED
PSI CORPS IN ELECTION TANGLE

Did Psi-Corps Violate Its Charter by Endorsing Vice President?

NARNS SETTLE RAGHESH 3 CONTROVERSY
EA PRESIDENT PROMISES BALANCED BUDGET BY 2260
COPYRIGHT TRIAL CONTINUES IN BOOKZAP FLAP
SAN DIEGO STILL CONSIDERED TOO RADIOACTIVE FOR OCCUPANCY
IS THERE SOMETHING LIVING IN HYPERSPACE?
SPECIAL SECTION

Pros & Cons of Inter-Species Mating
Frontpage[4]
REBO AND ZOOTY ARRIVE

"WE SAY SERIOUS THINGS IN A FUNNY WAY"

ENTERTAINMENT - BABYLON 5 WILL AIR REBO AND ZOOTY MOVIE MARATHON
RECLAMATION OF SAN DIEGO WASTELAND GETS UNDERWAY
LONDO MOLLARI TO BECOME CENTAURI EMPEROR
Backpage
EARTH SENATE VOTES MORE MONEY FOR TITAN TERRAFORMING
STOCKS: HOW YOUR CREDIT RATES
NARN CONSULATE OPENS ON MARS AMID CONTROVERSY
Community content is available under
CC-BY-SA
unless otherwise noted.