Dear all. I have a copy of The Writer's Bible. That I want to sell.
The Official Babylon 5 Fan Club issued limited edition copies of several official Babylon 5 documents. The first of these was the Crusade Writer's Bible.
The Crusade Writer's Bible is written by series creator J. Michael Straczynski. It was prepared before Crusade began production to give series writers, as well as members of the cast and crew, information about the background of the universe and characters.
The document begins with a description of the setup for Crusade, including the events following the Shadow War and the Drakh attack depicted in "A Call to Arms". This introduction then goes on to describe the mission of theExcalibur.
The following sections cover the main characters. They contain many hints about the characters that would have been considered spoilers before the series aired. Etc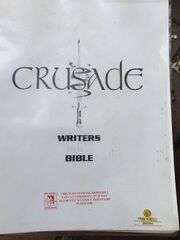 It is a collectors item. It is a rare opportunity to own a copy of an actual internal working document from show. The Crusade Writer's Bible is no longer available, and the number of copies in existence is limited. The Crusade Writer's Bible has become a valuable and sought-after collectible.
It was only sold for a short time directly from the Babylon 5 Fan Club. Since the fan club went out of business, these are no longer for sale anywhere. Only a small number were ever sold, making this an extremely rare and hard to find item.